Cedar Rapids, Iowa – October 22, 2020 – Seed to Sky, by artist Ruben Aguirre, is a newly-completed bright, abstract mural in the Kingston Village neighborhood of downtown Cedar Rapids. The project was unveiled Thursday by Murals & More with an online dedication event to celebrate the installation.
Aguirre painted the mural in two working sessions, beginning the first week of September and finishing touch-ups and sealant in early October. He describes the mural as a landscape abstraction inspired by Cedar Rapids.
Containing some literal symbolism (cedar trees and rapids/water), Seed to Sky suggests the upward journey and the necessary shared resilience needed for growth and development. The potential implied by the seed is a symbol of the future. While reaching the sky is an individual challenge, getting there is often a communal effort. It's natural to start slow, to struggle, to need the help of others, but also to adapt, thrive, and help others thrive for a collective gain. To cultivate a forest, a place to live. Not just participating as a spectator, but as an integral part of what happens around us. Immersing ourselves in nature often reminds us of our place in the world. (Aguirre)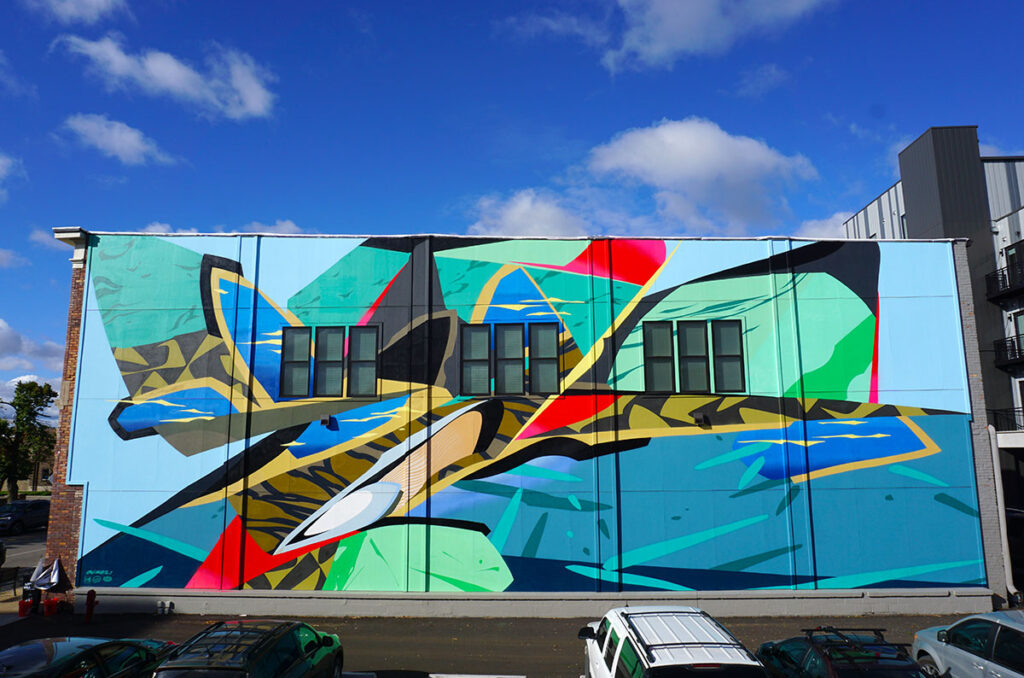 The online event was hosted by Murals & More board member Laura Kaiden, featuring Aguirre and project stakeholders. Adam Burger, co-chair of Murals & More, led the team of volunteers to develop the project. "We're especially excited today because this mural has been three years in the works," said Burger.
Discussions with Dash Coffee Roasters for a mural on the east-facing exterior wall of the Rowell Hardware Building began shortly after the business opened its doors in 2017. Rebecca Weinbrenner, owner of Dash, says the mural couldn't have come at a better time, describing the need for the community to be uplifted after the derecho that hit Iowa in August.
"It just represents our Cedar Rapids community so fantastically … it impacted exactly how we were feeling and it brought hope to where we were at right after a tough time, and is just another reminder of how Cedar Rapids comes together as a community," said Weinbrenner.
Jesse Thoeming, executive director for the Cedar Rapids Downtown District, echoed the theme of resiliency in Cedar Rapids, citing the resurgence of development in Kingston Village.
"Kingston Village has just absolutely blossomed and thrived in the last five or six years, especially after the flood of 2008, and has become an absolute jewel, not just for downtown, but for our entire community," said Thoeming.
The importance of community support for public art was underscored by Nick Ludwig, co-chair of Murals & More, in thanking sponsors for their contributions. "Rightly so, it is expensive to bring in high caliber artists — such as Ruben – we are so thankful to have worked with him for this project. The financial support just has to be there to make a project like this happen," said Ludwig.
Title sponsors for the project include the Cedar Rapids Downtown District and ImOn Communications. Additional contributing partners include Rowell Hardware Development, LLC; Klinger Paint Company; Gary Rozek and Fred Timko for Popoli Restaurant; Dash Coffee Roasters; and Stefan Doerrfeld.
Thoeming described the goal of the downtown district to add to the vibrancy of the neighborhood in supporting the project. "Added vibrancy and placemaking is something that is at the core of what the Economic Alliance does. These kinds of new pieces of public art do just that," said Thoeming.
As a group committed to making public art accessible in Cedar Rapids, Murals & More sees the partnership with the downtown district as a win for the community. Seed to Sky is the second project the downtown district has partnered with Murals & More to complete, the first being Across Iowa (American Discovery Trail) completed in 2019.
"Obviously we care a lot about public art, art that is accessible, and for us, to see how excited they get about the same thing, and how art can accomplish their goals, it's truly a wonderful partnership that we're happy to be a part of," said Ludwig.
Lisa Rhatigan, vice president at ImOn Communications, discussed the company's commitment to supporting the arts as a title sponsor for the project. The company relocated their headquarters to Kingston Village in 2018.
"We are so pleased and proud to add our name to this beautiful piece of art in Kingston Village. In the midst of a pandemic, our community faced a horrible storm which stole much of the beauty from our streets and neighborhoods. What a gift it is to be able to stop and enjoy this piece of public art in the middle of an urban neighborhood," said Rhatigan.
In describing his work, Aguirre touched on the benefits of public art, saying, "There's so many different reasons why people would want public art, and there's no wrong answer really."
Seed to Sky can be seen outside Dash Coffee Roasters, located at 120 3rd Ave SW in Cedar Rapids.
Ruben Aguirre
Ruben Aguirre (b. 1979, Chicago, IL)  is a Chicago based painter who is expanding on the roots of style writing with a non narrative approach to mural painting. His interest lies in drawing attention to underutilized infrastructure as a potential substrate. He has produced a number of murals in the Chicago area, across the U.S., and abroad. Aguirre's work is an intersection of abstract graffiti, formalism, and mural painting.  His work is informed by architecture and plays with re-imagining public space, while investigating pattern, hard edge painting, and color field through the use of the spray can, with traces of typographic letter structure from his graffiti roots. He has exhibited in The National Museum of Mexican Art, the Chicago Cultural Center, and in the Hyde Park Art Center. His work has been covered by the Atlantic, and the Washington Post. Aguirre's public works have been commissioned for schools, residential spaces, private businesses, as well as various neighborhood development organizations, and clients such as Adidas, Linked IN, and McGraw Hill. See more at theshiftchange.com.
Murals & More
Murals & More, The Cedar Rapids Mural Trail, is a nonprofit organization dedicated to utilizing local architecture as the backdrop for public art in Cedar Rapids, Iowa. We believe in the power of art that is accessible to all. We connect artists with space for them to create and inspire. Connect on Facebook, Instagram, and visit our website at crmurals.org.
Cedar Rapids Downtown Self-Supported Municipal Improvement District
In 1986, a Self-Supported Municipal Improvement District (SSMID) was created by vote of the downtown property owners for community development, streetscape and beautification improvements. They agreed to tax themselves as an additional assessment every year to revitalize the area. Today, the Downtown Commission is composed of property owners or their representatives appointed by the Mayor to continue these initiatives, and remain visionaries in planning for the vitality of downtown Cedar Rapids. The Downtown SSMID Commission works closely with the Economic Alliance to help carry out the Commission's strategic plan and meet its goals. Learn more: Cedar Rapids Downtown Self-Supported Municipal Improvement District.
ImOn Communications
ImOn Communications provides high-speed Internet, cable TV, and telephone services to residents of Cedar Rapids, Marion, and Hiawatha, Iowa and fiber Internet and phone services in Iowa City, Iowa. ImOn also provides businesses throughout the Cedar Rapids and Iowa City Corridor, as well as Dubuque, with advanced broadband communication solutions to help organizations of all sizes meet their business objectives. ImOn was the first to introduce fiber-to-the-home services in Cedar Rapids in 2011 and residential gigabit service in 2015. As part of ImOn's philosophy of supporting their communities, the company provides free community Wi-Fi service to Downtown Cedar Rapids, the McGrath Amphitheatre, Newbo City Market, the ImOn Ice Arena, and other outdoor areas near the Williams Blvd. public library and the Jane Boyd Community House. ImOn also provides free Wi-Fi at various parks in Hiawatha, Iowa, the Iowa City Ped Mall, and in Dubuque at the Fighting Saints Arena and the Five Flags Center. ImOn is locally owned and operated and offers customers tremendous value and choice for services. For more information regarding ImOn Communications, visit www.ImOn.net or call 319-298-6484.