Swiss-based artist duo NEVERCREW began work Wednesday on a mural on the east wall of the 2nd Ave SE parking ramp downtown. The mural, made possible by the Cedar Rapids Downtown Commission, was planned for this location as the center point of the ConnectCR project, bringing together recreational development between Cedar Lake to the north and the NewBo and Czech Village neighborhoods south of downtown.
Murals & More presented the project to the City of Cedar Rapids Visual Arts Commission in early 2020. The commission selected the proposal put forth by NEVERCREW, then the project was immediately halted due to international travel restrictions associated with COVID-19.
NEVERCREW, composed of Christian Rebecchi and Pablo Togni, is known for their work around the world representing connectivity and the relationship between humankind and nature, with a focus on environmental and social topics. This mural is no exception, as described by the artists to be "built with natural elements coming from the ground, the big subject is in an artificial balance, so where the human action was able to find a compromise between human and natural needs."
In their proposal, the artists describe the project to be about connection. "Connection between places, between locations, between humans and nature. It's like a mirror of a reality that's made of different realities, a conceptual crossroad or a signpost that unites the place where it is realized, the urban context, the natural context around the city and the paths that are merging together right in front of it."
The main subject of the mural is a quartz-shaped element, a selection made by the artists as "something that comes from the ground made from years and years of geological evolution." The quartz acts as a surface to reflect the community, with the main central facet of the stone reflecting the actual space in the area directly in front of the mural. Other facets point to community and natural landmarks.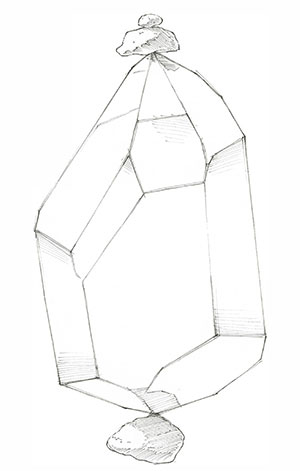 A sketch included in NEVERCREW's proposal, depicting "an artificial balance, so where the human action was able to find a compromise between human and natural needs."
The Cedar Rapids mural is the duo's sixth project in North America, with previous works realized in Vancouver, Miami, Phoenix, Los Angeles, and Rochester (New York).

The mural is expected to be completed by the end of April. An official unveiling event will be held in early June.
Read more about NEVERCREW at www.nevercrew.com.